Back in 2006, we booked a family holiday to Tassie. Having 2 small boys at the time (1 and 3yrs) we thought a motorhome would be the way to go. Little did we know how much that one decision would change our lives.
Several months after returning home to 'reality' we found that our dream of living life on the road and travelling this vast and beautiful country of ours was the reality we really wanted. We could not get our heads around just selling everything and taking off – and so our 5 year plan was hatched.
It took a little more than 5 years to come to fruition, but in 2009 we bought a school bus that had been 'retired' from service. Though old with over 600,000klms, the bus was still in survey, was mechanically sound with no rust and in fact had been driven by one lady driver for the past 10 years!
And so our unregistered 'dream' sat outside our front gate for another 2 years.
An enthusiastic Dean stripped out the seats, cleaned it up, washed and polished it, got it re-complianced as a motorhome and gave it a run every week or so. After work, we would take our evening drink out to the bus, open it up, sit in it and dream about what the finished result would look like, how we should convert it, what it would be like to live in it…
Our first plan was convert the bus into a motorhome ourselves. Dean has worked in the building and construction industry for many years and a cabinet maker and builder friend of ours said he would give us a hand with the tricky bits. It soon became apparant however, that there were many aspects of the conversion that we had no knowledge or skills in at all.
We wanted to be fully self contained so we could travel wherever and not be restricted to staying in parks or places where we had to hook up to electricity. Since it was not my dream to be 'Camping' on the road for 5 years or more with 2 kids, it was a must that the motorhome have the main facilities of a house – toilet, shower, washing machine, large fridge, aircon, decent sized kitchen, 'office' space, comfortable beds, plenty of storage, new larger windows for ventilation and the water, gas and electricity to run it all!
Not only did we not have the knowledge about appliances, devices and other items available to the 'mobile' fraterniy, we soon discovered we had zero knowledge when it came to solar and working out what we could run and how much power we could use – and so many other things!
It slowly dawned on us that we not only did not have the time to do the conversion ourselves, but we did not have the experience necessary to successfully navigate the many traps and pitfalls of solar and 12v electrical installation and general bus conversion to realise what we were dreaming of.
At the end of 2011, we had a trip planned to Brisbane to see the magnificent Elton John in concert. We had joined the CMCA and a few days before we left, I combed through the adverts scribbling down some potential bus conversion companies. A few phone calls later and we had the numbers of 3 people to go see when we were in Brissy.
As serendipity would have it, one of the businesses I had contacted only did the structural work, but they gave me the number of a person they frequently worked with. Our second visit of the day was to Kelvin Judd at Diamond Cabinetry in Ormeau. I had spoken briefly with him on the phone about our project and he welcomed us to the factory and showed us around. Though the business mainly worked on fit out of smaller campervans, Kelvin had over 20 years in the industry and had built motorhomes large and small. We looked at some pictures and the work in progress in their factory. We discussed fabrication techniques, materials (we were very concerned about the extra weight that would be added) and solar & electrical installation.
By the time we walked away, we knew we had found someone who could turn our dreams into reality for us. Best of all he also was excited about our project. Yippee!
On our 10 day Christmas break, we set about designing the bus and drafting our floorplans and products lists. We measured and remeasured the bus, combed books and magasines and the internet for layout and product ideas & reviews, drew and re-drew, re-measured and then redesigned it all. My project scrapbook was filled with scribbles and products and prices and ideas. And at the end of it all though I had mapped out the basics, I still had no real idea how the solar would work and even if it would run our 'home' sufficiently and how much it would all cost.
In the new year Kelvin contacted me to see how we had progressed with the design. We had our floor plan measured and drafted to the centimetre including the new windows and under floor storage areas, together with an essential appliance list and emailed them down with some pictorial concepts of what was in my head. We were looking for a price of around $50K…….. a pipe-dream as it turned out!
Kelvin and John were awesome though. They did their best and came back to us with what they could do for around $50K which contained the essentials and then some pricing for extras that we could add.
Dean and I batted ideas around for the next couple of months – what could we live without, what did we really need? In the end we knew that we were desigining our new home that we would be living in for a long time and so decided to take the plunge and get what we really wanted built.
One other issue was that Diamond Cabinetry was located some 1000 plus Kilometres south. How were we getting the bus to Brisbane? The two options were drive or get it freighted down – even though we had no idea how we could achieve that!
In April we got our baby roadworthied and registered! Yay – another milestone on the journey.
We had a final Skype conversation with Kelvin one Saturday morning and committed to having the bus in Brissy within a month. Seredipity again had other ideas for us.
The week previous, Dean had stopped on the way home at a local roadhouse and had spoken to a semi-trailer driver who told him about a website called www.loads.com. It is a site where you list your loads/backloads and the freight companies contact you if they have availability. We had decided it would be wise to investigate freighting the bus down as us taking time week off work to drive it then fly home would be equally expensive – even more so if we had a breakdown or tyre blow out. After our call to Kelvin, I jumped on the internet and listed our bus for transport to Brisbane.
Not 5 minutes later i had a phone call from a truckie who was heading up the Bruce Highway to drop equipment off in Mackay – he was heading back to New South Wales tomorrow! Unbelievable. We were unprepared for the suddenness but after a quick call to Kelvin to check he had space in his shed for our bus we said yes.
The next day the two lads turned up with their step deck low loader. Getting the bus on that trailer was a nerve wracking experience! I was sure it was going to fall off the side! To boot it started to rain as we were reversing the bus up the ramps for about the 5th time! Aaaagh! No traction! Eventually however, the old girl was loaded undamaged and they drove off with our baby. Kelvin called to say it had arrived safely the next day as promised. We could not believe our luck.
We flew to Brisbane the next week to discuss the final plans for the conversion and to see whether our floor plan could be fitted in as we designed it. Though we flew down a couple more times during the remodel, truthfully, the hardest parts of this conversion journey were actually over as we now had a firm idea of what we wanted and we had found the right person to build it. Kelvin and John's expertise, professionalism and industry contacts filled in the knowledge-gaps that we couldnt get our head around and ensured that our new home materialised into reality.
Some of the features and design issues we worked out between us included:
Number and location of 240v powerpoints – all motorhome outlets must be double pole instead of single like in a house which makes them much more expensive to install.
Screen door – we wanted a security screen door that we could lock over the folding bus doors but removing the old and replacing was a real issue because the prefab sizes were far smaller than the exisiting door space and a new door requires recompliancing. The solution was a specially fabricated shark-mesh security door and frame fitted over the existing door.
Sliding Drawers were fitted throughout to aid easy access of gear at the back of the cupboard space complete with heavy duty tracks to carry the weight
A full height slide out pantry helps with kitchen storage
The sink was fitted in sideways to maximise bench work space.
Where to locate the front loading washing machine – a steel box was built and fitted below the chassis frame behind the left front wheel.
Air-con would normally escape to the lowest place in the bus – out the front door! a full partition and concertina door was fitted to enable the aircon to be kept inside. Extra concertina doors were added for privacy and to keep the rear and front areas separate so you can run the a/c in the section you are using to save power.
After reading that the 12/24V (and other fridges) have issues operating in very hot temperatures a small exhaust fan was fitted at the top of the fridge space to suck cooler air through the space.
Special box was constructed and fitted below the deck to store the generators, inverter and battery charger. This is also ventilated by an exhaust fan to prevent overheating of the inverter. The two small generators – each capable of running an aircon – are on slide-outs.
5 windows were replaced with fully screened push out dometic windows. Where possible the remaining windows were utilised to provide plenty of ventilation (over the stove, toilet and 2 bunk beds
Over the months, we had many discussions about the electricals. How they would work,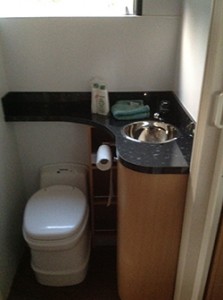 the different combinations of 12v, 240, solar, inverter, generator, and direct 240V power. How they would be delivered to the user inside the bus, how many panels & batteries, what size generator etc etc etc …… I tackled this head-spinning topic by hours of internet research and reading. Everyone had a different opinion! All we wanted was to be able to turn on and use the electricity like you would in a house without tripping out inverters or overload switches, having to run the genny too often or killing our batteries. How hard could that be???
The initial suggestion was a couple of solar panels and a deep cycle battery or two. I didn't think that would work for a family used to living with electricity on tap – especially when you throw in a load of washing a day a microwave and numerous other must-have electronic devices. Eventually after much calculating, recalculating and 3rd party discussion/opinion, we ended up with 4 x 200w solar panels, 8 x 95ah deep cycle AGM batteries, a 3000w sine wave inverter and 2 x 2.4kw sine wave generators, which feed both 12V and 240V electrical outlets. We can also run the power directly into the motorhome to charge batteries and run appliances direct.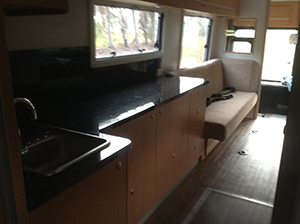 I am happy to report that 3 plus months into living in our motorhome, we have not had to run the generators once to recharge the batteries as they top up completely every day via the solar. This may change when the weather becomes overcast for a period of time, we are waiting to see and will re-post if this is the case.
At long last our motorhome was completed! In December Dean & I and our good friend Allen excitedly flew to Brisbane for the final inspection. The finishing touches were done while we were there and Kelvin gave us a good induction into how everything worked. Our dream was a reality and it was even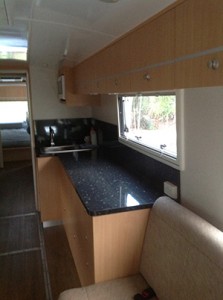 better than we initially had envisaged. Awesome!
It was a day of mixed feelings when we said farewell to the team at Diamond Cabinetry. Kelvin in particular had been a weekly if not daily fixture in our lives for the past 12 months and it was like driving away from friends. Though Dean was somewhat nervous navigating through Brisbane, but we were soon on the freeway and headed for home.
We spent the first night in Eumundi (right outside the iconic markets) where we called in for dinner with family and their inspection of our new motorhome. Waking in that beautiful place the next morning in our brand new home was wonderful – the start of a whole new adventure!