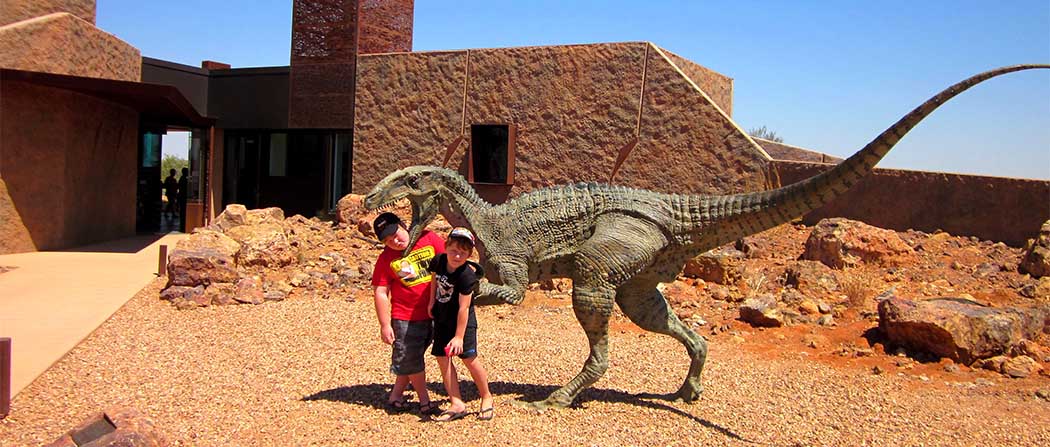 Perched on top of a mesa called 'The Jump-Up" about 24 kilometres from Winton sits an unexpected, distinctly architectural building guarded by a ferocious-looking dinosaur.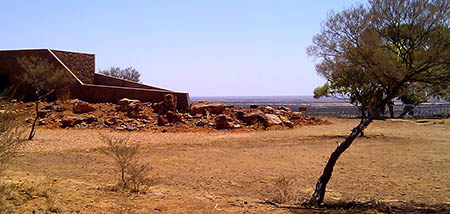 Housing the reception, presentation room and Cretaceous Café of the Australian Age of Dinosaurs,  the building is perched on the very edge of the mesa and café customers have stunning view included with their morning coffee or snack!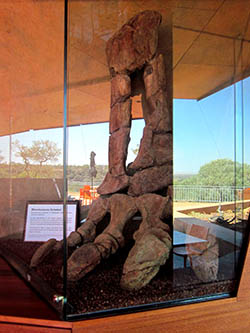 Having just come from Richmond and the fabulous Kronosaurus Korner, the boys are excitedly awaiting more dinosaurs.
We peruse the many interesting dinosaur fossils and souvenirs whilst waiting for the next tour of the collection room.
The presentation is very professional, informative and even enthralling.
Until coming to outback Queensland, my perception of most dinosaurs, apart from Australian mega-fauna, was that they mostly lived on other continents in particular the Americas. Not so! Our own dinosaurs vary from sea-dwelling monsters through to land dwelling herbivores and even our own T-Rex relative. Though currently small in number, the team at the Australian Age if Dinosaurs is leading the way in new dinosaur discoveries and believes many more species are to be found. 

A video presentation takes us on a short journey through time and the animated life, death, fossilisation and subsequent discovery of several of the local dinosaurs.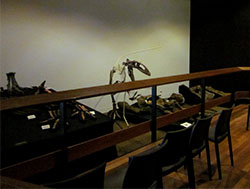 Starting with a chance discovery of a fossilised bone on his own property in 1999, the passion, drive and determination of founder David Elliott has resulted in an awe inspiring not-for-profit enterprise: The Australian Age of Dinosaurs (AAOD).
The tour presenter tells us about the bones on display – each of the dinosaurs has a name – far simpler to remember.
Banjo – the Australovenator Wintonesis – a smaller lighter version of the T-Rex, was an incredibly exciting find. He is the first large carnivorous land-based dinosaur found in Australia. He is the ferocious fellow standing guard out front.

The huge bones of Matilda – the herbivorous Diamontinasaurus – contrast against the size of our human presenter standing next to them.

There is plenty of time for photos and questions. We are informed that the AAOD is pretty much the only place you can see actual dinosaur bones as most of the ones in museums are replicas or casts with the originals being locked away from sight.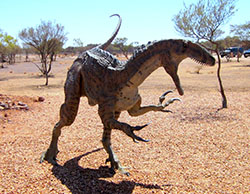 We emerge even more enthusiastic about dinosaurs. The boys are eager to make the short trek along the edge of the mesa to the Fossil Preparation Laboratory. I am very happy that there are no Australovenator Wintonesis' alive today out on this mesa!
In a very large colourbond shed we discover another amazing sight. Shelf upon shelf of pallets and shipping containers full of unprepared dinosaur bones wrapped carefully in plaster. Hundreds an hundreds of bones like Christmas treasures just waiting to be opened!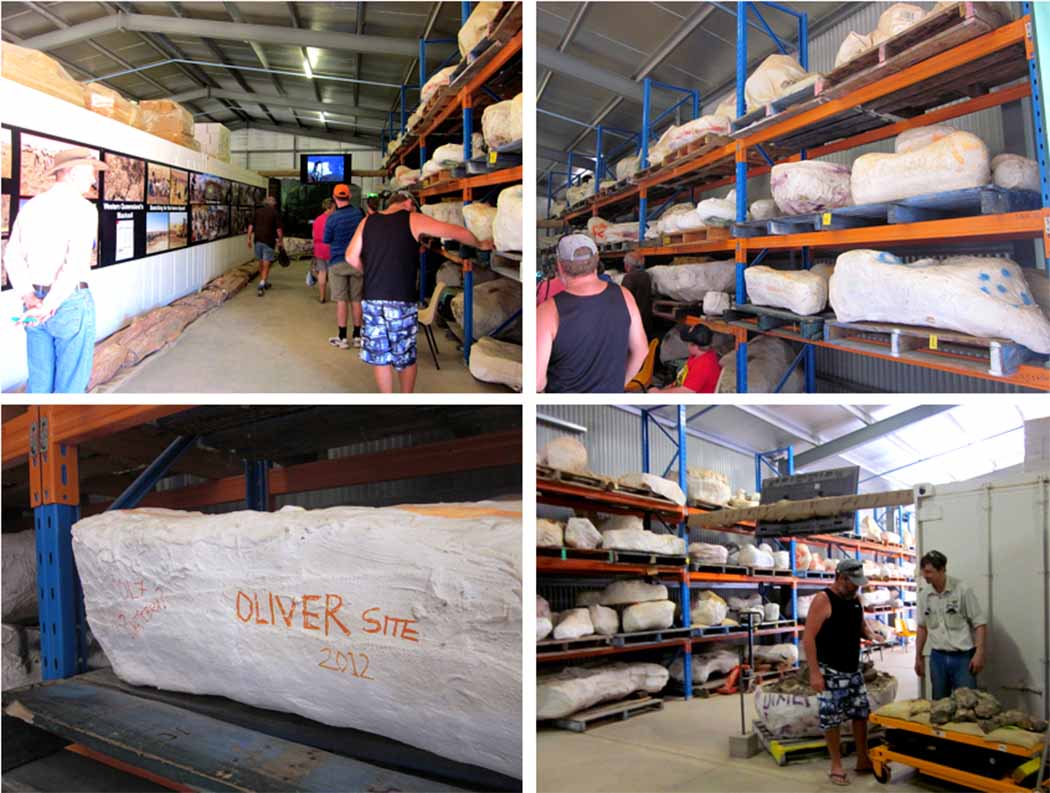 The second part of the tour proves just as engrossing.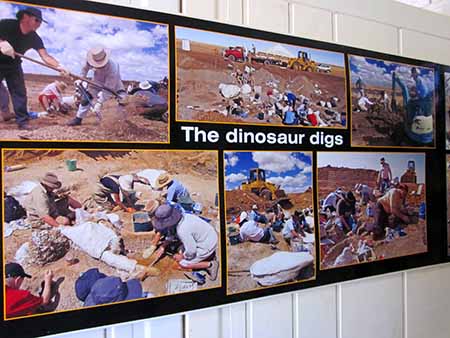 Photos and commentary show how they are dug out of the ground complete with huge chunks of soil and wrapped up until the technicians have time to prepare them. Each parcel is named & dated indicating when and where it was found and to what animal it is believed the bones belonged.
We are told that they already have around 30 years worth of bones to be prepared and every year they go out and dig up more.
Apparently the surrounding areas are so rich in bone deposits there is not enough time, money or manpower to dig them all up. Wow kind of different to what I learned in school!
Further along we get to see people preparing the bones for description by palaeontologists and eventual display.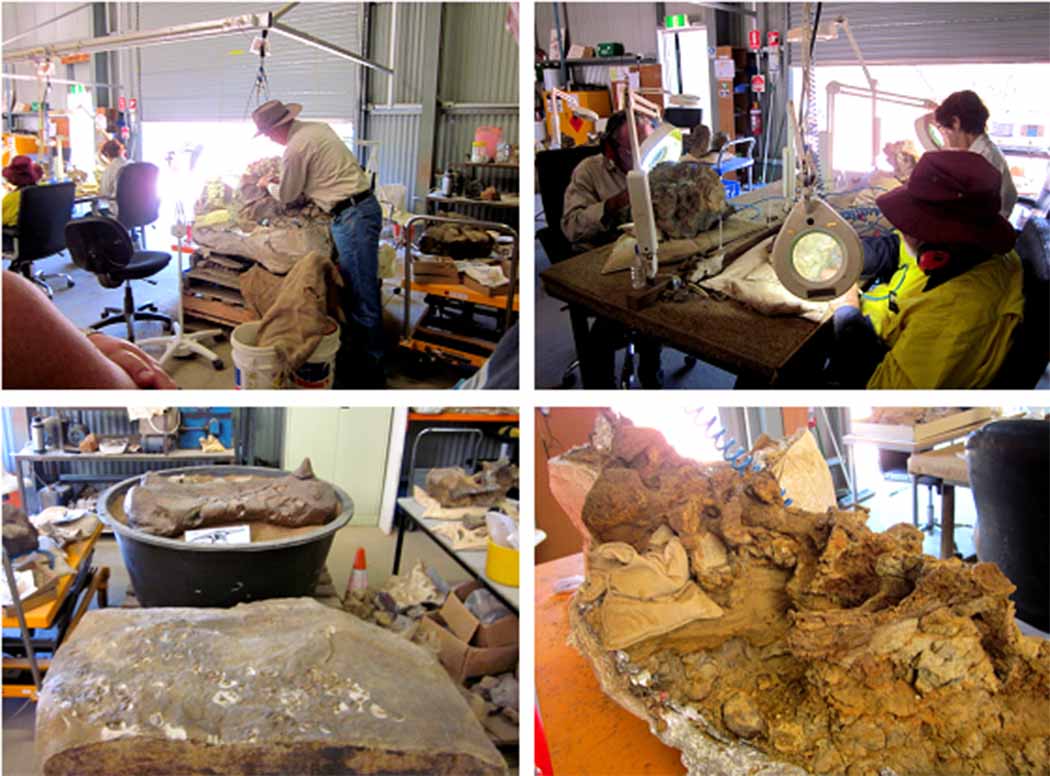 We are shown opened plaster bags with some of the bones already emerging. It is a painstaking task, undertaken mostly by volunteers, carefully striping the fossilised mud from the bones with fine vibrating tools so as not to damage them. Frequently the bones are brittle and fractured and the mud is what is holding them together.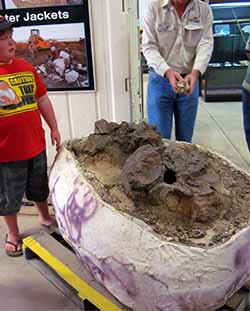 Everyone on the tour is also invited to get involved. You can book to go on a week long dinosaur dig with the AAOD – they have three or so every year but get in quick as numbers are limited and frequently booked out year in advance.
Alternatively you can learn how to prepare the dinosaur bones. Take either a day course or become an honorary technician by completing a 10 day course which afterward allows you to participate free of charge anytime as a volunteer technician.
What an incredible experience – revealing something that has not been seen for 95 million years!
Our heads full of interesting dino-facts, we wander back along the picturesque edge of the jump up to the Cretaceous Café for a coffee and cool drinks. Sitting on that magnificent mesa overlooking the Winton plains below, I wonder how many more hundreds, maybe thousands of dinosaurs there are out there just waiting to be discovered? 
Reflecting on what we have learned today, and sitting in this beautiful building, I am again awed by the ability of ordinary individuals who by the sheer power of their passion, conviction and enthusiasm for a particular thing create something amazing and then invite us all to share.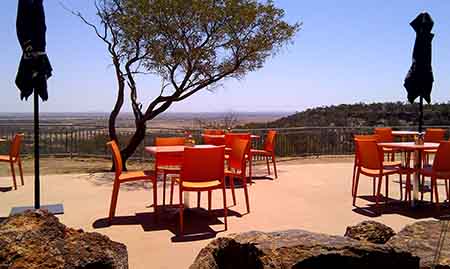 The Australian Age of Dinosaurs is far more than a tourist attraction. This amazing entity and the people who work here are re-writing Australian and world paleontology. Their discoveries and dinosaurs should be a part of every Australian school curriculum and on every-one's list as a place to come and experience.
Thank you David & Crew for a truly an 11 out of 10 experience!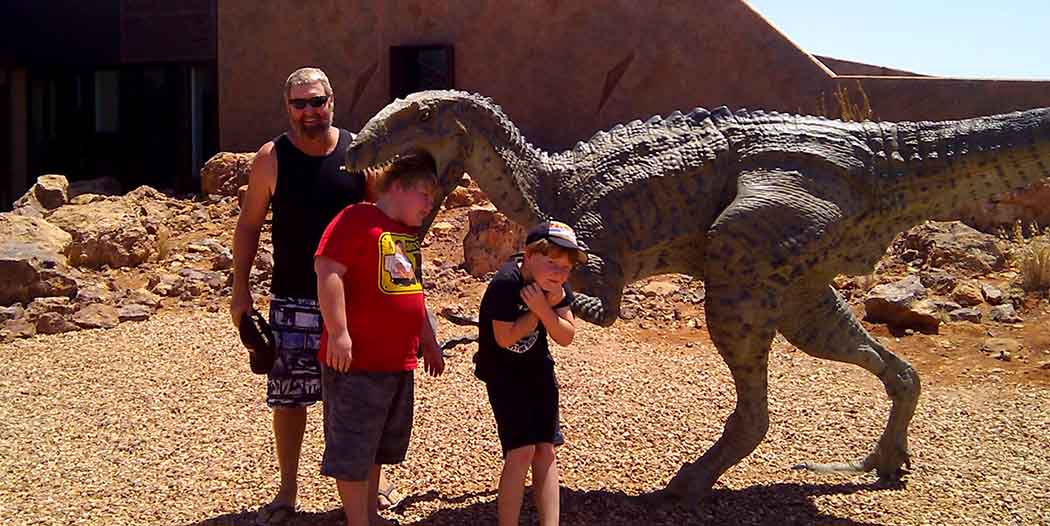 Getting There:  The Australian Age of Dinosaurs is located about 24 kilometres outside of Winton. If you don't have your own vehicle, there are tours from Winton daily.
Essentials: Hat, Sunscreen, water and plenty of room on your camera!