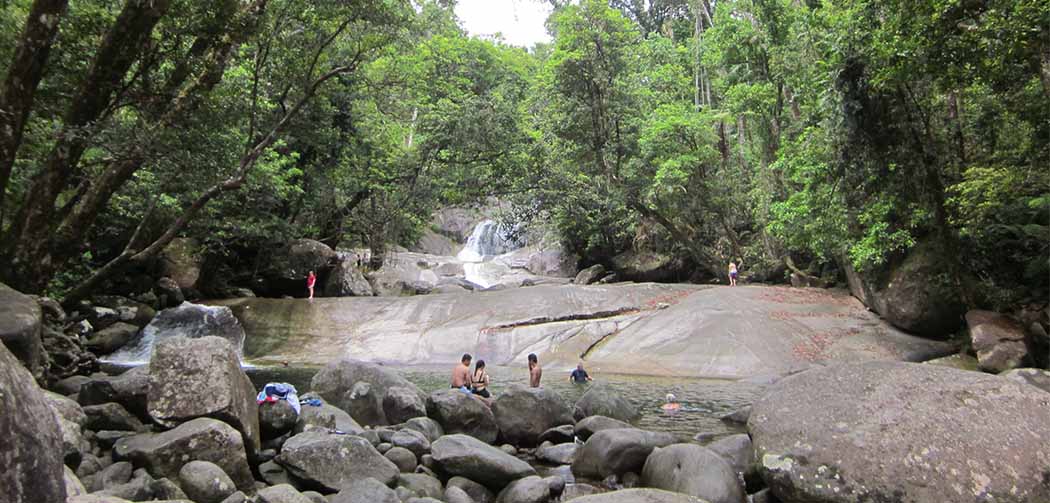 Ever since we headed north from Mackay in June, we had been looking forward to re-visiting the beautiful township and surrounds of Babinda. Sitting about 60klms south of Cairns and 30 klms north of Innisfail, Babinda is nestled in the rain forested foothills of the Great Dividing Range between the peaks of Mt Bartle Frere and Mt Bellenden Kerr.
On previous trips we have camped at the small campgrounds located at The Boulders – a magnificent swimming and picnicing spot about 7klms west through Babinda township. This time however travelling in a 12 metre bus with car trailer attached and with our dog Jazzie, we decided to check out the Babinda RV park which lies on the eastern side of the Bruce Highway opposite the town centre and offers free camping for up to 3 days.
Arriving on a Sunday afternoon in late October, we were greeted with the site of around 100 people frolicking in the waters of Babinda creek which runs alongside the campground! Uh Oh – would there be room for us?
Luckily the group were mainly day tourists to the spectacular spot and the RV park itself had plenty of room for us. Shortly we were installed on a nice level grassy site and after a quick unpack and roll out the awnings and chairs and esky…. Time to head down to the creek for a swim.
Ahhhh that's better! Is there anything better than a cooling dip in a crystal clear freshwater creek on a hot afternoon … with refreshments in hand of course! And so began the unwind into total relaxation after 4 weeks of constant travelling, sightseeing, packing, unpacking and driving.
Babinda is and always has been one of our favourite destinations. Although it's mighty wet and pretty humid in the summer (over 4 metres of rain annually deposit themselves on the town), the payoff is lush tropical greenery wherever you look and lots of beautiful fresh flowing rivers and creeks to wash away your cares.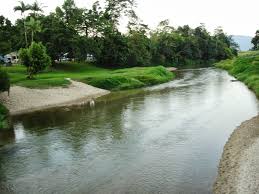 Over our stay there we met Mick – on his way to Cooktown for an army mates 60th birthday celebration – who had been forced to build a camper and leave home because his adult kids wouldn't, and Lizzie – a single older lady – on the road for 17 years in her happy camper travelling with 'Raven' her dog. Mary and Bob, on their second or third trip round Oz in their 30 foot converted bus became good friends. Hayley and Chris along with their three children were on the last leg of their 12 month round Australia jaunt before heading home to the Sunny Coast for Christmas and many other friendly folk from Australia and further afield all planning to spend a day or two at Babinda and most finding it very hard to again pack up and leave that beautiful spot and friendly town.
Previously, the township of Babinda has been a service town for the sugar industry and the local sugar mill which is now closed. Babinda remains a service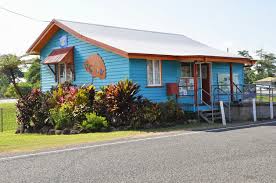 town for the local community and a beautiful and welcoming township for travellers. A visit to the Babinda info centre located right beside the highway is a must to get the most out of your stay. Staffed totally by friendly volunteers, they have a wealth of local information – and the key to the dump point at the RV park.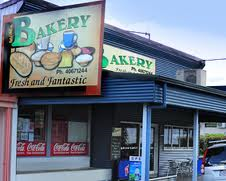 Although only having just over 1000 people at the last census, Babinda is surprisingly well serviced by a variety of shops and services. As well as Police, Ambulance & Fire stations, the town has its own hospital with 24 hour emergency department, Government agencies, library schools and many other facilities generally to be found in much larger towns. Two pubs, a supermarket, a quality butchery, delicious must-visit bakery, café's, Laundromat, arts and crafts store and a variety of other stores provide both tourists and locals with far more than just the basic necessities. One could easily live in this town.
And it's one of those towns where everyone says 'Gidday' or acknowledges you with a smile in the street. The shopkeepers are friendly and so are their staff. Everyone enquires how you are and where you come from.
A testament to the delightful nature of this town was the sign on the newsagency counter above a bowl of coins saying – "If I'm busy – please pay for your papers here". Encouraging you to not only pay for your paper, but to get your own change if need be.
Daily forays into the surrounding area were always ended with a refreshing swim in the beautiful creek and perhaps a glass of something cool with some new-found friends.
Babinda has some must-see things to do. Even if you are just passing through, you simply must call into the beautiful Babinda Boulders and the magnificent Josephine Falls which are slightly further south via Miriwinni.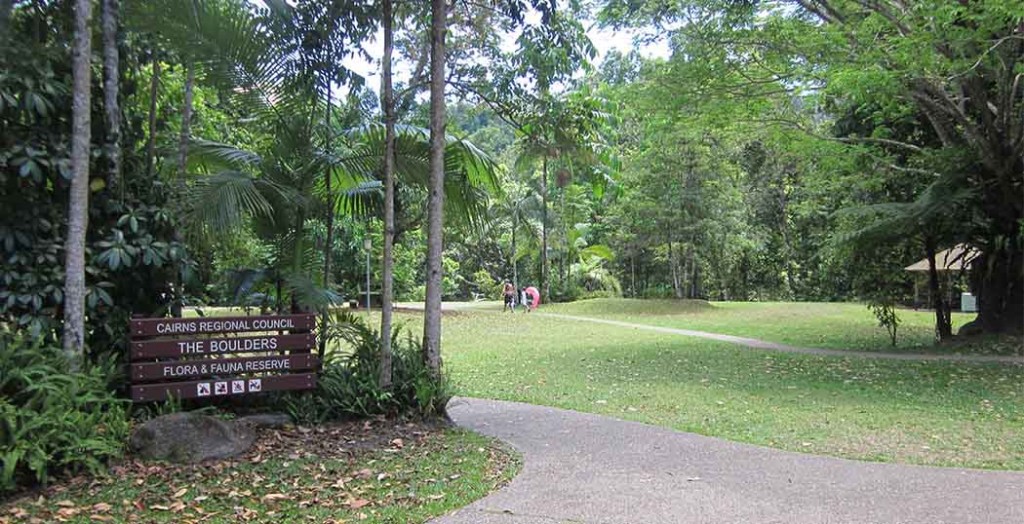 The boulders, 7klms west of Babinda have a picturesque picnicking and swimming spot right beside the road. Lush tropical gardens contain gas barbeques & picnic tables, toilets, cold showers, and a huge crystal clear swimming pool provided by nature. A 2klm walking track through the tropical rainforest provides inspiring views of waterfalls and the amazing granite boulders that it is named after.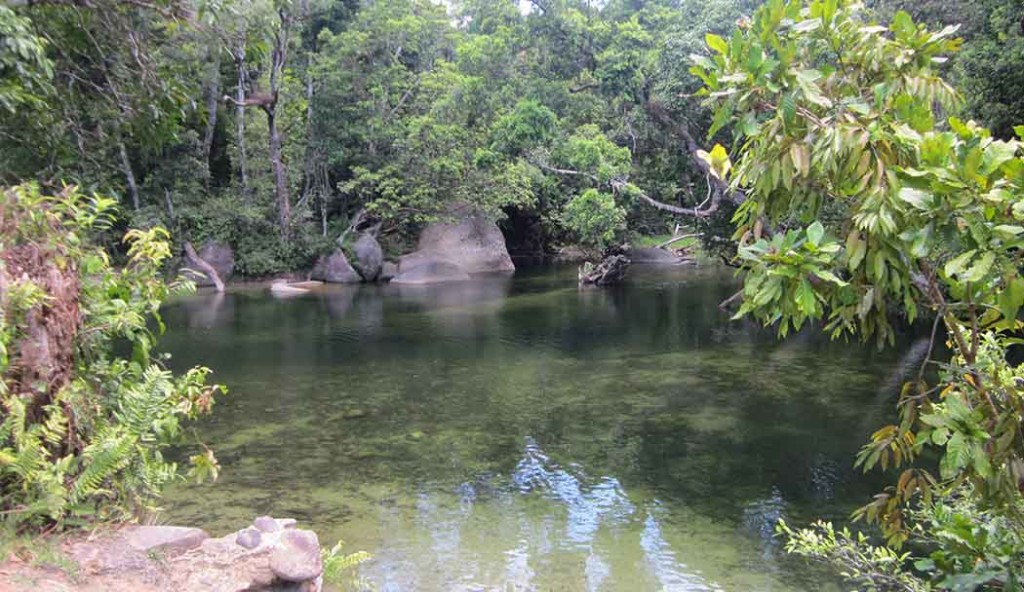 The indigenous legend of the creation of the boulders involves the forbidden liaison between two young lovers from different tribes and the young woman throwing herself into the waters of Babinda Creek where she drowned when her people came to retrieve her. Signage tells the story of the tragedy and warns visitors not to swim in certain treacherous parts of the creek.
On the opposite side of the road from the picnic area is a beautiful camping ground suited to tents, caravans and smaller motorhomes.
About 7klms south of Babinda is Miriwinni and the turnoff to the magnificent JosephineFalls. An 8klm country road winds through cane farms to the Woonooran National Park and the falls which sit at the foot of Mt Bartle Frere – Queensland's highest peak.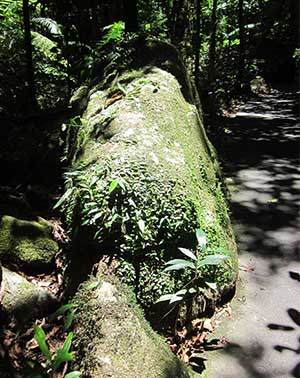 Mt Bartle Frere also has one of the highest rainfalls of any places in Australia – and by late October when we were there, the local newsletter in Babinda listed the rainfall at the top of the mountain as being over 6.5 METRES of rain for the year to date! No points for guessing why the countryside and forest are so lush!
A 700mt bitumen track delivers you to the falls and sensational swimming area. The falls run constantly all year and visitors are warned to be aware of rapidly rising water levels occurring at times – a product of cloudbursts further up the mountain. For most of the year, breathtakingly cold, clear rainwater cascades serenely down the jumbled granite rocks and boulders, over several slides into the main swimming pool – delight for swimmers and photographers alike.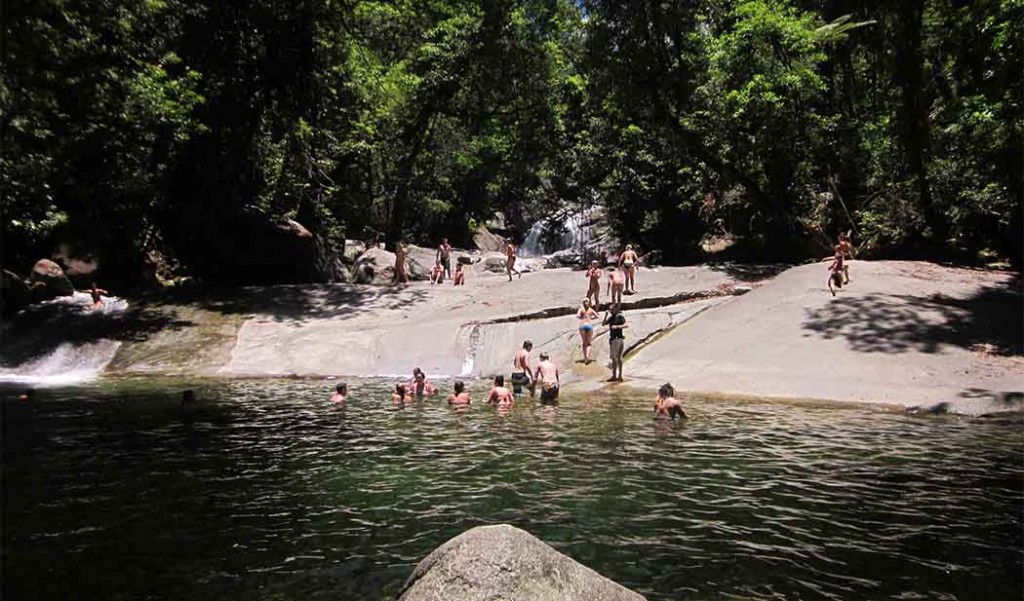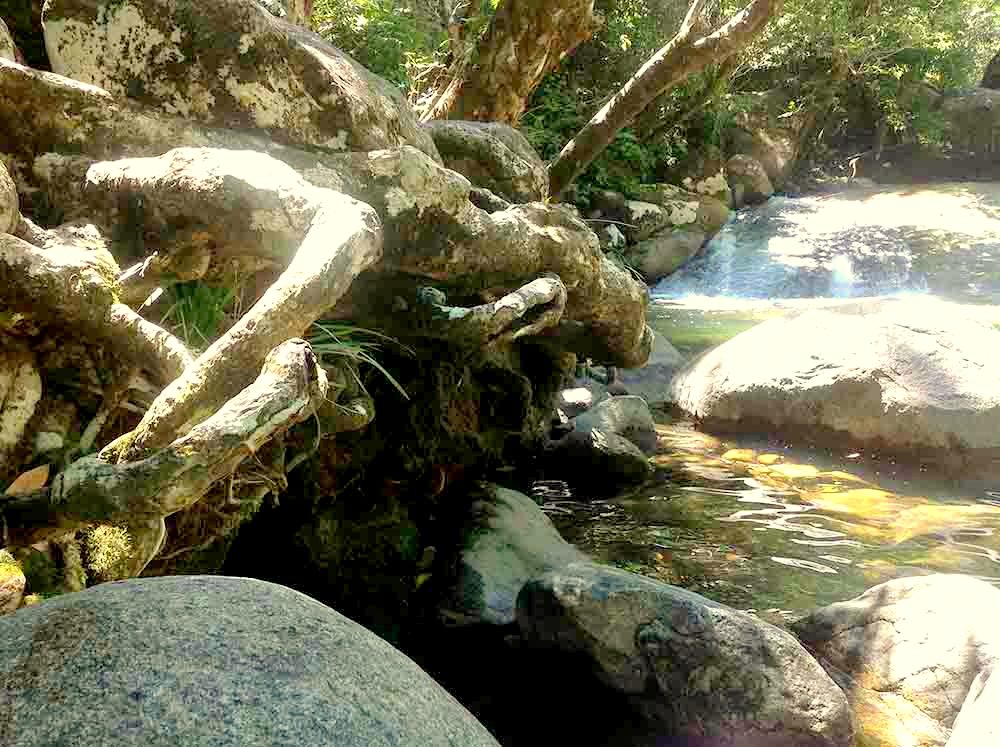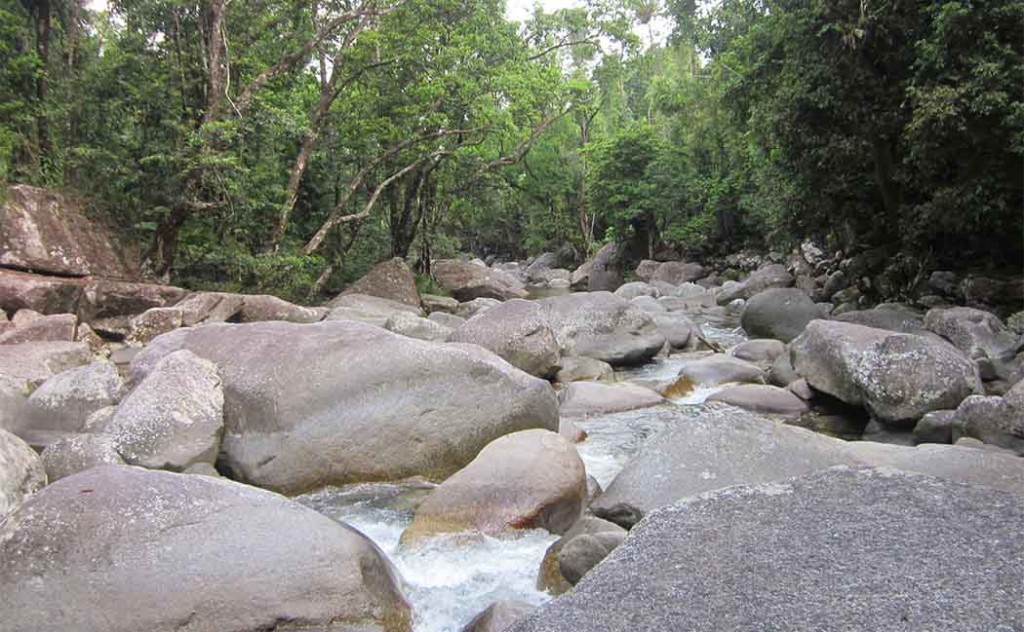 This is a magnificent place to spend anywhere from a few hours to most of a day, particularly when the weather is warm – but be warned – you will find it hard to drag yourself away!
One of the best things we did while at Babinda – and perhaps one of the best things we did on the six weeks of our North Queensland 'tour' was to take a paddle down Babinda Creek. Our new-found friends Mary & Bob recommended this to us.
Around 2-3 kilometres south of Babinda, a bridge crosses Babinda Creek. A break in the guard rail on the western side allows vehicle access to the creek bank itself and a small sandy beach right below the bridge.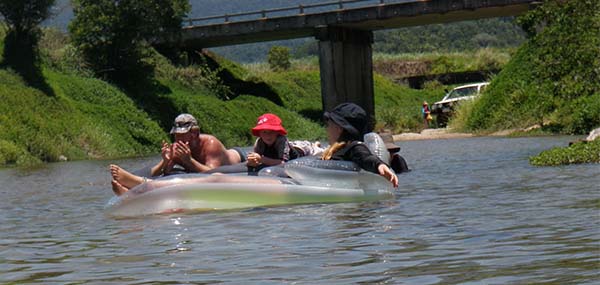 This is a fabulous place just to spend a few hours relaxing, (particularly when its hot as the bridge provides shade) and a perfect place to launch a kayak. Along with us for the ride were Hayley, Tayla, Lochie and Josh – making 8 of us altogether – far too many for one double kayak lent to us by Bob & Mary – so we had gathered an airbed and a couple of pool toys to use as floats.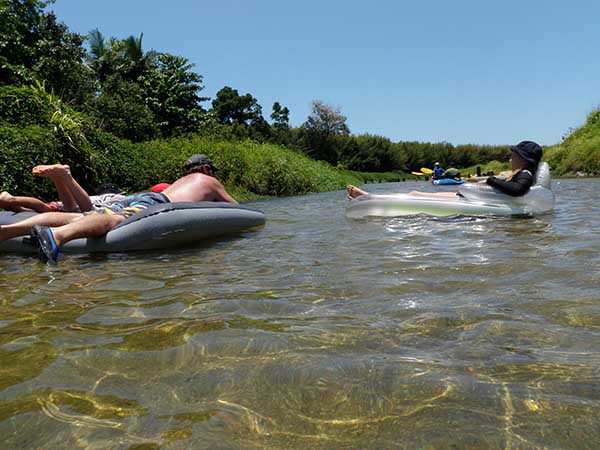 The journey was sensational. The boys took turns in the Kayak while the rest of us were 'forced' to just lie on our water-beds and float down the creek. The return trip to the campground took 2 hours of total relaxation. The water was clear and warm, butterflies, birds and fish accompanied our journey and all there was to do was to guide your float along the deepest channels of the creek and to watch the view go by.
This late in October, the creek is quite low and whilst there are deeper parts, much of the creek has but a few inches of water. As it turns out, airbeds float over the surface of the water in all but one or two really shallow spots, whereas the Kayak had to frequently be dragged through the shallows to the next spot. We know who got the best deal here!
Truly, this was a sensational journey – and probably the most relaxed I have felt in a long time. On a scale of 10 it was an 11 and something we will do again when next we visit.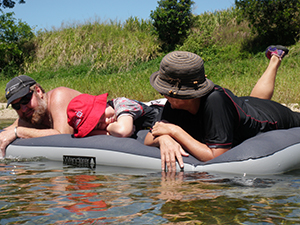 Babinda Kayaks hires double and single kayaks  if you don't have your own and allows paddlers to start from their property bordering Babinda Creek to travel the 3 or so Kilometres down the creek, finishing at the spot alongside the Babinda RV park. The journey from the bridge is around 1.5klms and could be done by a kayak in about an hour. Truly – for a more relaxing ride – bring your airbed!
Eventually, yet again, we had to drag ourselves away from Babinda. Dean and I have fantasies of buying a block to retire to with Babinda creek running through the black yard. Maybe one day……