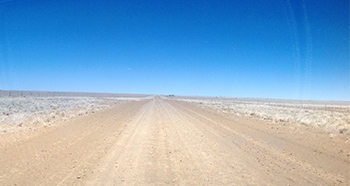 Our visit to Kronosaurus Korner  has whet our appetite for dinosaurs and we decided we have to go check out Winton's Age of Dinosaurs.
We leave our motorhome in the caravan park in Richmond and our furry friend Lisa in air conditioned comfort with the lovely park caretaker and take the alternate Marine Fossil Byway to Winton. A dirt road today in reasonable condition which would quickly become boggy with rain.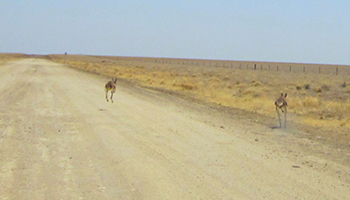 No concern of that today – it hasn't rained for 2 years out here and the stock and roos we pass along the way are as parched as the flat dry landscape. 43 degrees again outside today. Every occasional scrappy tree we pass has cows, roos or emus under it. Bustards eye us in stillness, hoping they cannot be seen in the barren landscape as we pass. This is what's known as 'waiting for the wet'.
No mobile reception out here – even the GPS has given up and shows a blank screen. Luckily we have the old-fashioned technology at the ready! Occasionally we see signs to turn off to stations many kilometres away but pass not one other vehicle. If you have a breakdown out here it could be a long wait till help arrives.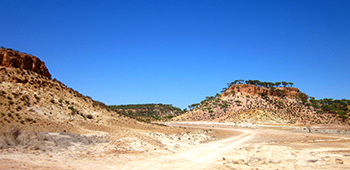 Back on the bitumen near Winton, the landscape changes. Cows give way to sheep. The grass is still dry but there is a little more of it. Little bumpy hillocks and mesas appear in the distance. As we pass them we see the striations in them from the millions of years of receding sea-level and water erosion that has left those harder rocky sections standing above the flat plains.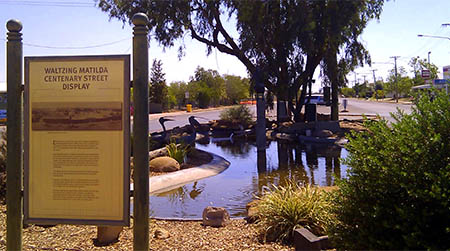 We arrive at Winton and do a quick reconnoitre of the main street. Neat and green, it's lined with interesting things to explore. We check in at a local caravan park and quickly erect our tent and unload the car. Sorry Jazz – you will have to stay here bub.
First stop is the Waltzing Matilda Centre that we have heard so much about.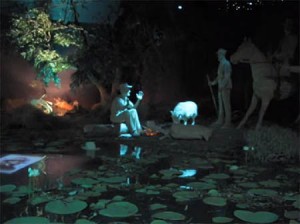 It does not disappoint with room after room filled with Australian artworks, historical artefacts and the photographic history of settlement in central Australia.
Themed around Banjo Patterson's famed poem Waltzing Matilda which was written whilst he was staying at local station, the swagman takes centre stage throughout the Centre.
In his own mini amphitheatre, the swaggie tells his side of the tale and of the hardships and starvation facing swagmen and travelers throughout the land in the pioneering days.
Photographs and snippets of poetry compliment a museum full of historical information , Australian art and everyday items from a bygone era.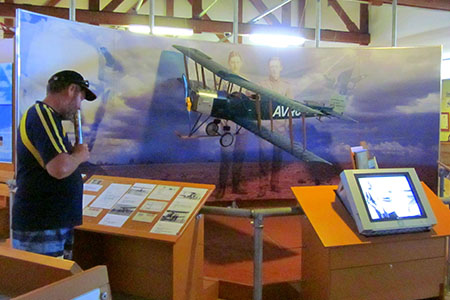 Winton is the birthplace of Qantas and aviation buffs will love viewing the displays and history of our national airline.
Out back, the Qantilda Museum is packed to the rafters with more photos, equipment, relics and collectibles from past centuries.
We laughed because boys had absolutely no clue as to what some of them were – like the phone exchange, old telephones, cameras and cash registers!
Some things were obvious as to their use but their level of basic mechanical operation was a reminder of the evolution of just about everything in today's modern world to electronics and computerisation.

Eventually we had to drag ourselves away as the centre was closing for the day. Allow at least half a day to thoroughly peruse this unique historical snapshot of Australian pioneering life.
The following day we head out early to the Australian Age of Dinosaurs.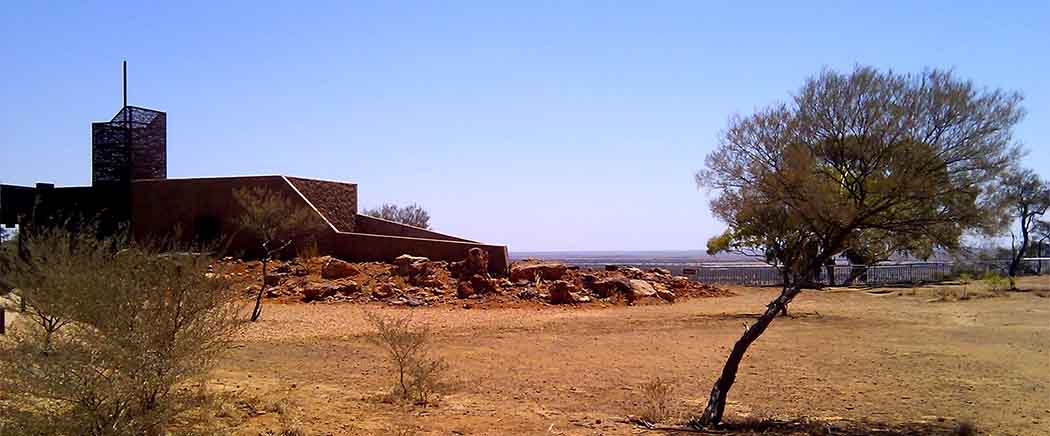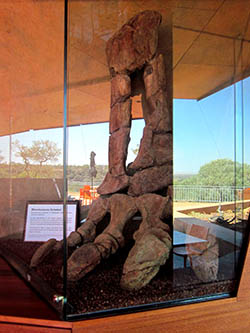 Perched on top of a mesa called 'The Jump-Up" about 24 kilometres from Winton sits an unexpected sight – a distinctively architectural building. Guarded by a ferocious-looking dinosaur, the building houses the reception, presentation room and Cretaceous Café, the building is perched on the very edge of the mesa and café customers have stunning view included with their morning coffee or snack!
We peruse the many interesting souvenirs & dinosaur fossils whilst waiting for the next tour of the collection room. The presentation is very professional, informative and even enthralling.
Starting with a chance discovery of a fossilised bone on his own property in 1999, the passion, drive and determination of founder David Elliott has resulted in an awe inspiring not-for-profit enterprise: The Australian Age of Dinosaurs (AAOD).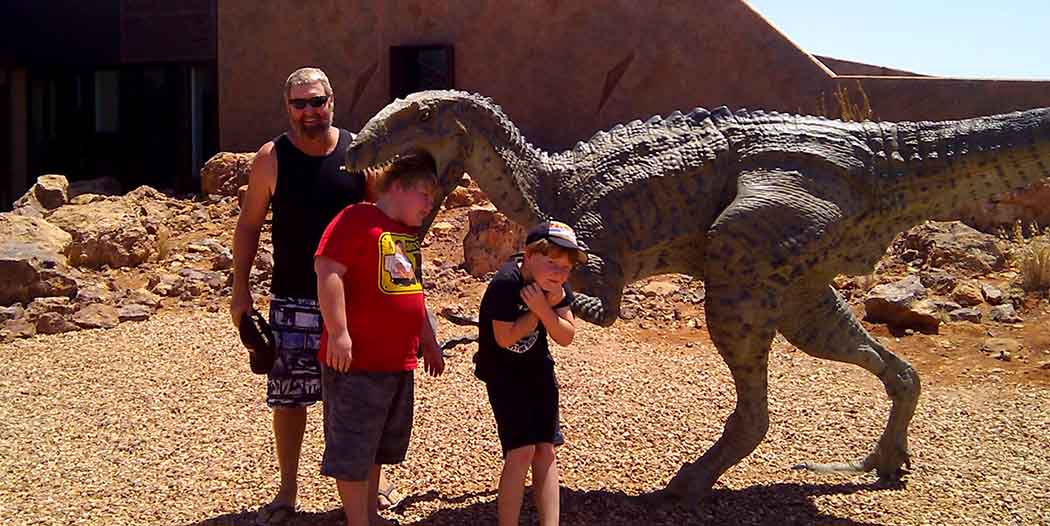 The Australian Age of Dinosaurs is so awesome we wrote a separate page about our wonderful experience there – click here to read & see the photos. Truly an 11 out of 10 adventure- his is a must do for everyone! Make sure you take a look.
Back in Winton, it was time to have a look around the town itself. Wide, clean streets lined with well presented old Australian-style buildings & several hotels. The residents obviously take pride in their town and it shows. No jarring big M's or Fried chicken joints here – just authentic country Australia.  It is nice to escape the fast-food/big business frenzied advertising that destroys the look and heritage of many a small town centre in our country – Charters Towers springing to mind.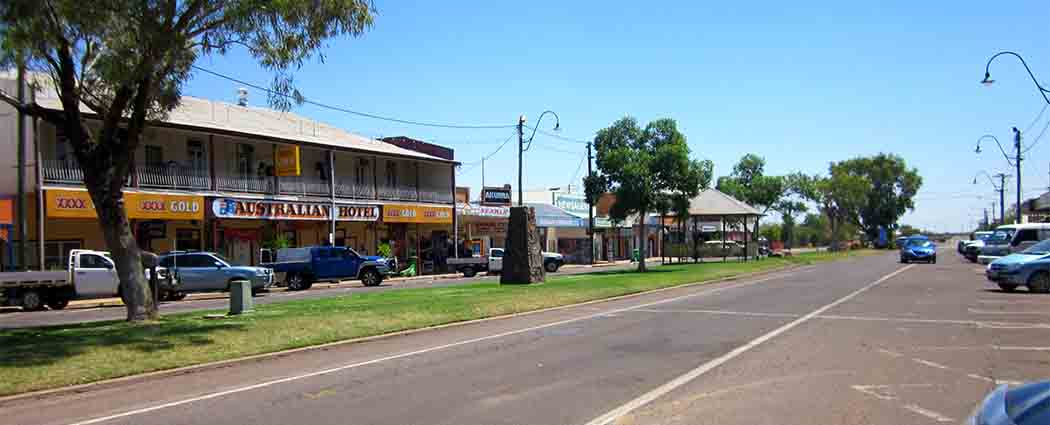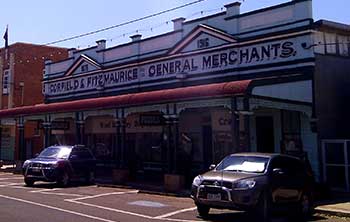 The boys notice one of the several opal and gemstone shops. Not a flash city jewellers, but a store full of shelves lined with beautiful opal and Australian gemstone jewellery and polished stones dug up from sites around Queensland. The friendly owners who do much of the fossicking and cutting themselves display their passion for their beautiful wares.  Kade being a bit of a bower bird has to have a couple of pieces of boulder opal as a souvenir. I would love a few pieces myself but there is a limit to how much you can fit in a 40ft bus!
The cornfield and Fitzmaurice General Merchants, Winton's first general store is heritage listed and its facia beautifully preserved. Today it contains an arts & crafts shop and an interesting dinosaur diorama & mini museum.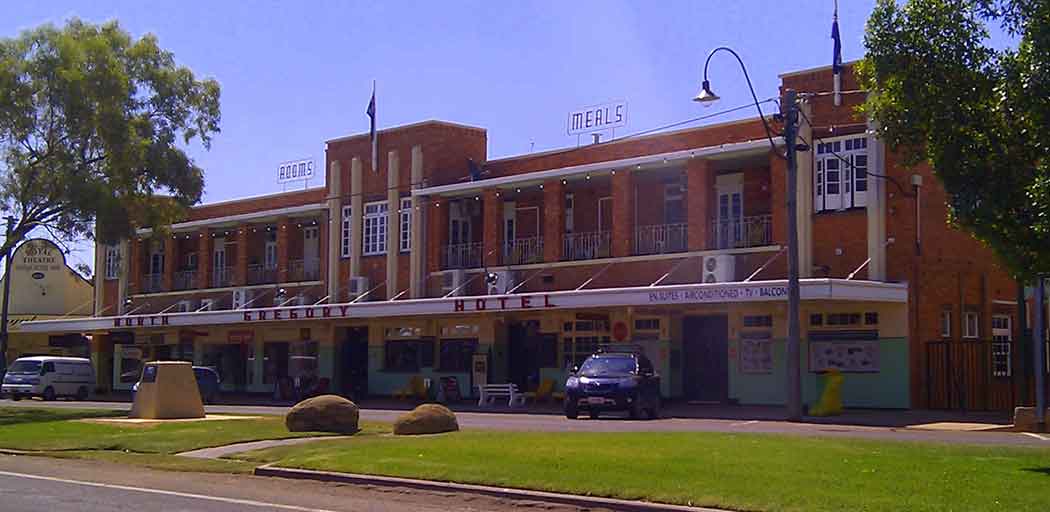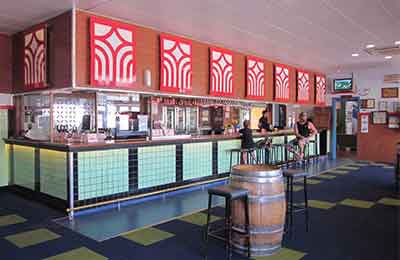 Next door stands the North Gregory Hotel. Whilst most outback pubs are very 'Australian' in style – this one stands out as being very different. Inside we are greeted cool air and a stylish art deco interior. How unusual.
The original hotel was built in 1878 by the owners of the general store next door. It was destroyed by fire in 1900, 1915 again in 1946. After petition by the local community, the hotel was rebuilt by the council at a cost of just under half a million dollars before being passed back to private ownership in 1986.
The hotel is beautifully presented with a mixture of art deco artwork, furnishings and fixtures blended with historical photographs of the local community.

This grand old hotel has a distinctive and wonderful air about it. It is not hard to imagine the parties, celebrations and society dinners that must have been held there over the years. I think I would like to stay overnight to experience it myself. Something for another day.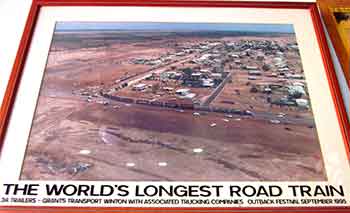 There are many other things to do in Winton but we are running out of time yet again. Originally a sheep station, the 84,000ha Bladensburg National Park, is only a short distance from town. The homestead self guided walk includes the homestead which has been turned into the information centre, staff quarters, meat locker and storehouse. Others have told us that due to the drought it is barren and the roos are dying of thirst and starvation so we decide to give it a miss today.
Lark quarry, holds a snapshot from 95 million years ago. Originally a small shallow lake area, the footprints of around 150 bird-like dinosaurs are captured in stampede across the fossilised muddy surface being chased by a tyrannosaurus type dinosaur – the bones of which have never been recovered in Australia. Located about 2 hours drive away, we do not have time for that either on this trip.
We retire to the caravan park for a swim and relax before starting the pack-up in preparation for an early return to Richmond tomorrow.
Note: Since our visit to Winton, we were very sad to hear that a fire completely destroyed the Waltzing Matilda Centre. The Qantilda Museum is still open and highly recommended as containing the best and most varied collection of every-day items from the past couple of centuries that we have seen on our travels. We are happy to hear that the Waltzing Matilda Centre is being re-built and very much look forward to seeing it on our next visit to Winton. 
Getting there: You can fly to Winton and there are tours that will take you to just about every attraction, however to get the most out of your stay you will need a vehicle. Winton is about 600 kilometres inland from Townsville or about 900 kilometres if travelling inland from Mackay via Longreach.
There is plenty of accommodation in Winton from caravan parks to motels and hotels. If travelling in your own van, consider bringing a full tank of water from elsewhere for drinking as the local water is artesian and has a very sulphurous odour.
We loved Winton. It is an unspoilt outback town with a wealth magnificent landscapes and unusual things to explore and experience. It is definitely on our list of places to visit on our next trip round.