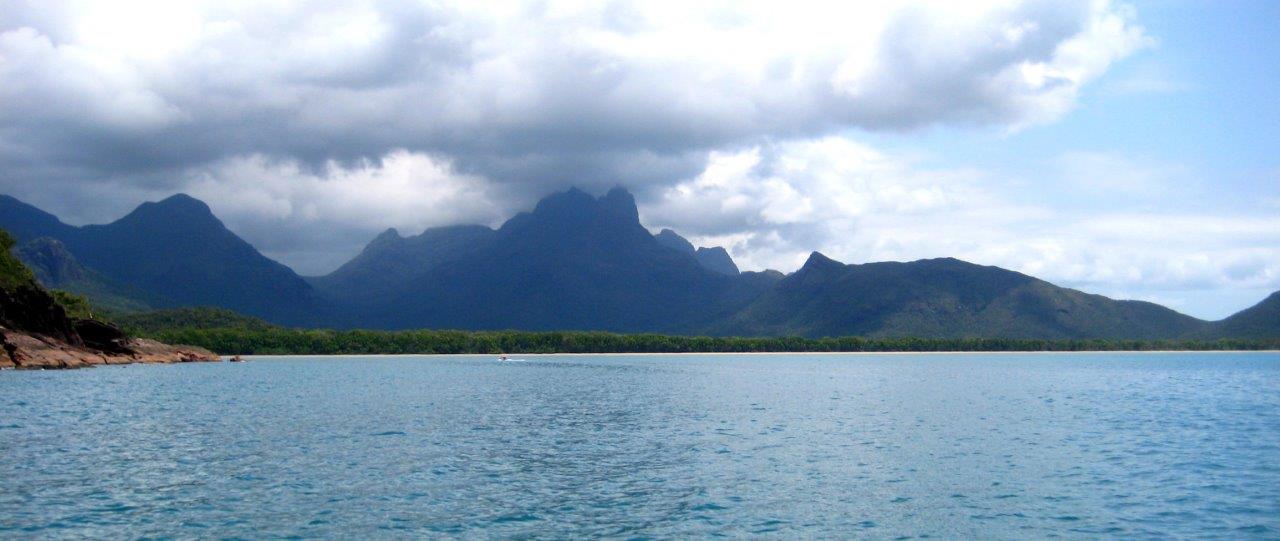 Hinchinbrook Island is one of the north's must-see destinations, yet for so many tourists and more than a few locals, the closest they get is viewing its often cloud-clad peaks from the lookout as they pass over the Cardwell Range.
The World Heritage listed island is just a stones throw from the mainland and accessible from either Lucinda in the south or Cardwell in the north. Day trips are available from both places as are island transfers for the many thousands of tourists who visit this pristine national park island every year.
Hinchinbrook is the world's largest all national park island in the world and highly deserves its preservation status. around 32Klm long and 10Klm at its widest, Hinchinbrook boasts a diversity of flora, fauna and geology rarely seen in such a small area. It has one of the most diverse mangrove systems in the world and one of the Queensland coast's largest biomass of seagrasses feeding a large dugong and  sea turtle population.  (Click here for map of Hinchinbrook courtesy NPRSR). The mighty and frequently cloud-topped Mt Bowen rises amongst its slightly smaller friends, to a hefty 1121mts (3678ft) above the sandy beaches below.
In 2011, cyclone Yasi pummelled this whole area and the evidence is still plain to see in the many dead and still-denuded trees standing along the foreshore and massive tree stumps and trunks washed up along the high tide line. Sadly, the small eco-tousism resort that operated for many years midway along the the eastern side was battered so severely that it remains in receivership 3 years after the event, still unrepaired and deserted.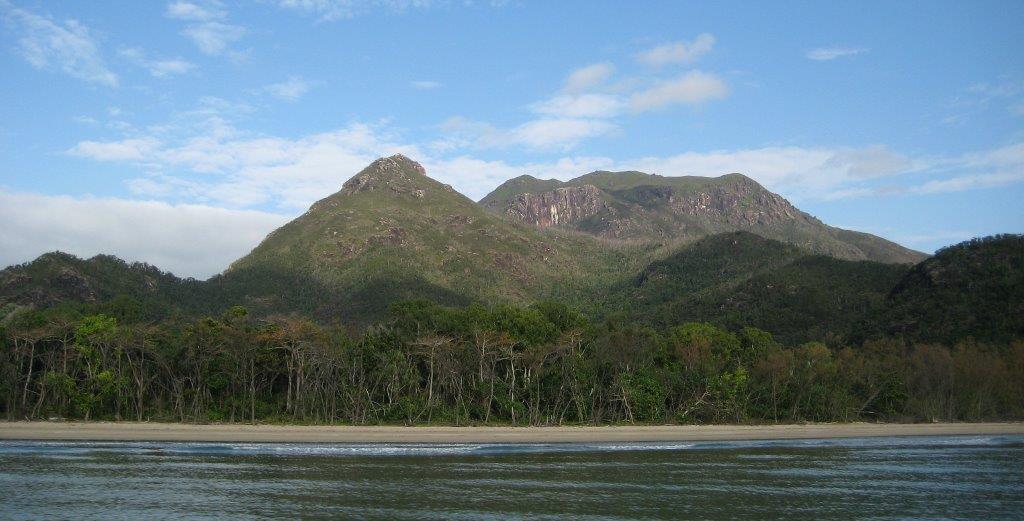 From the moment you step ashore on this magnificent island, you know you are in a very special place. It's not just because of the lack of buildings or other people. Its the aura of the place. From the clear warm waters and the clean, pristine, undisturbed beaches to the rugged forest-cloaked, cloud-topped peaks, this place is a rare gem.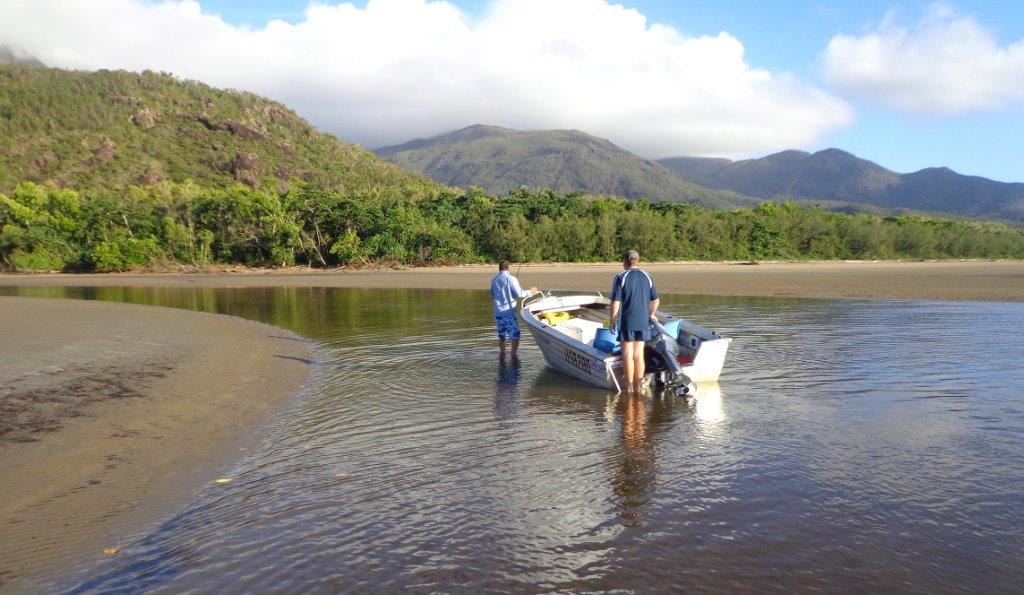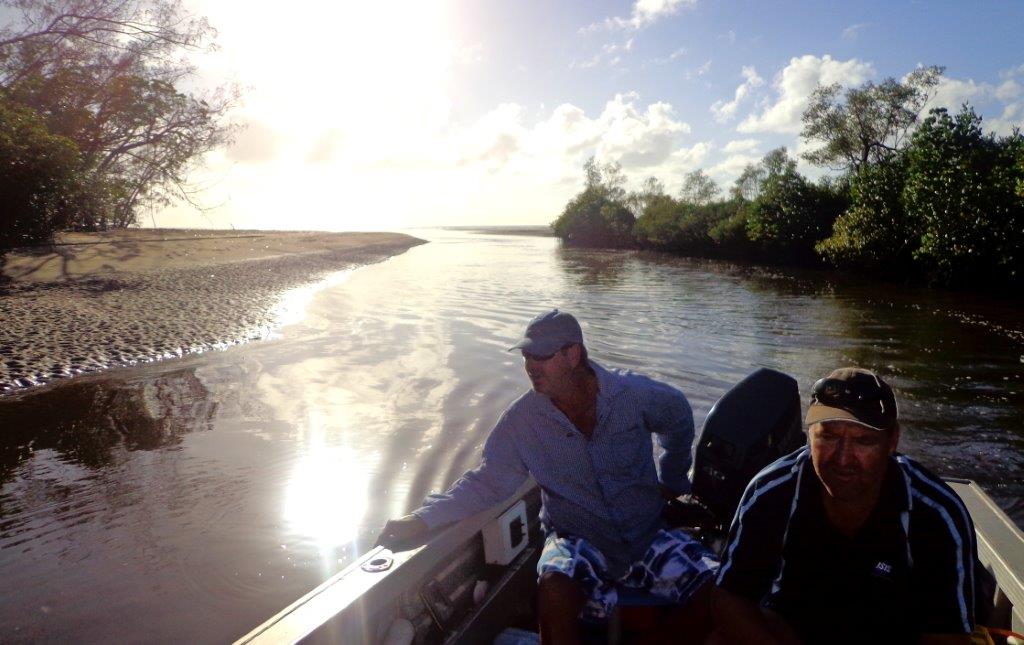 On a lovely September day, we visited Hinchinbrook with Dean's Mum and Dad, courtesy of our friends Mick, and John of Absolute North Charters. Leaving from Lucinda early in the morning, the trip across was smooth and picturesque.
Our first port of call was Mulligans on the southern eastern side for a spot of beach fishing.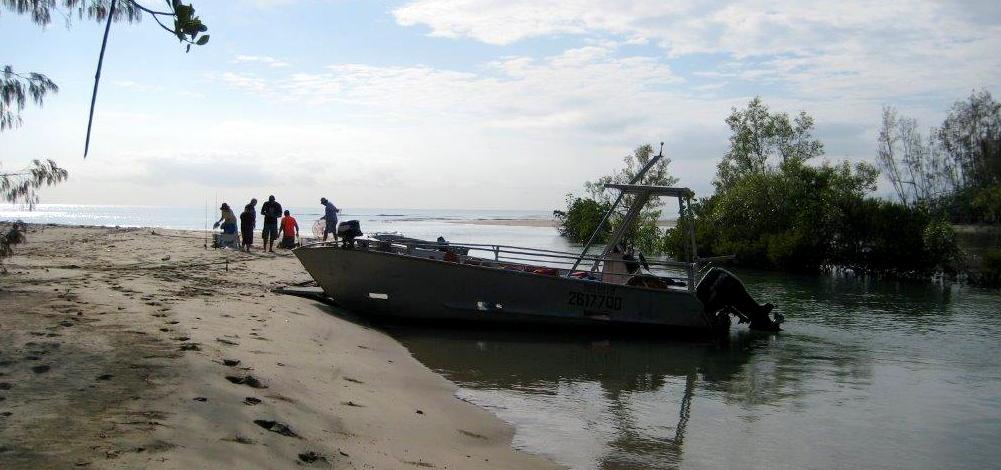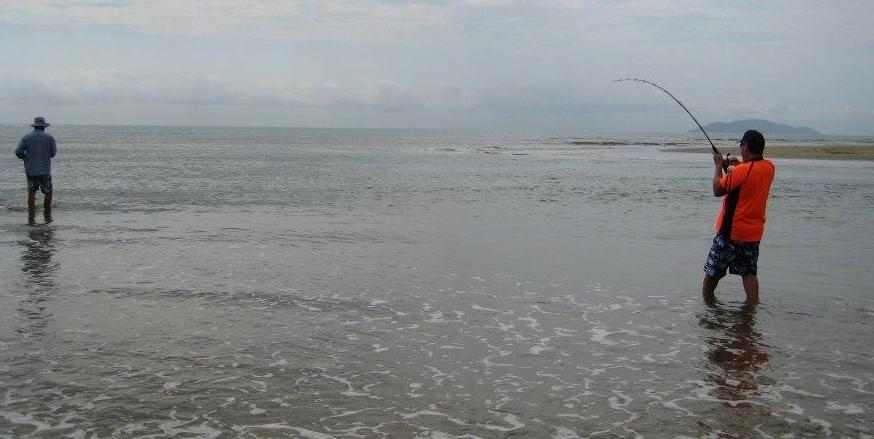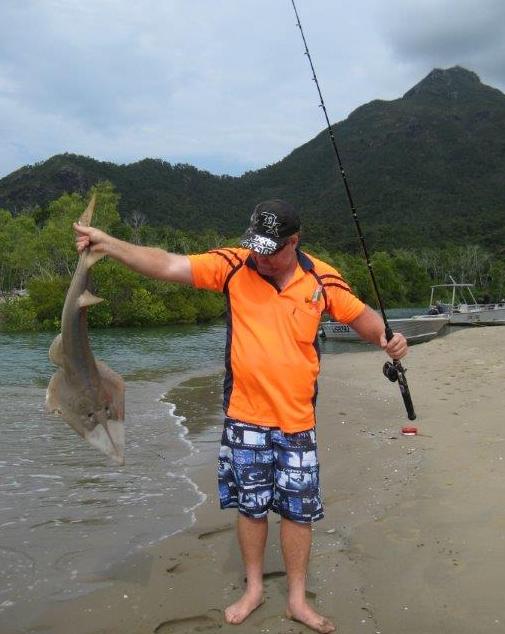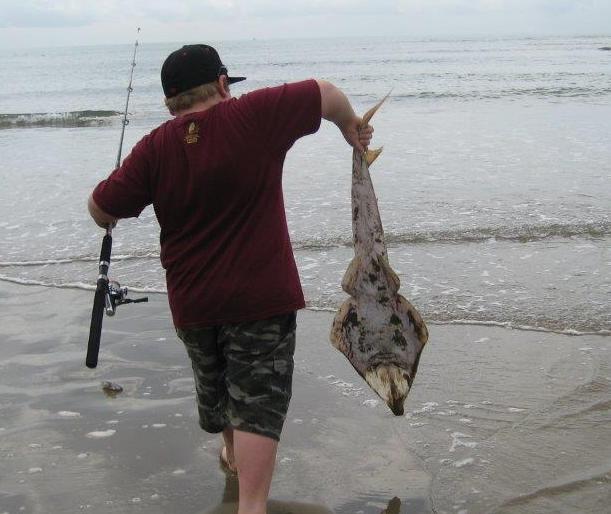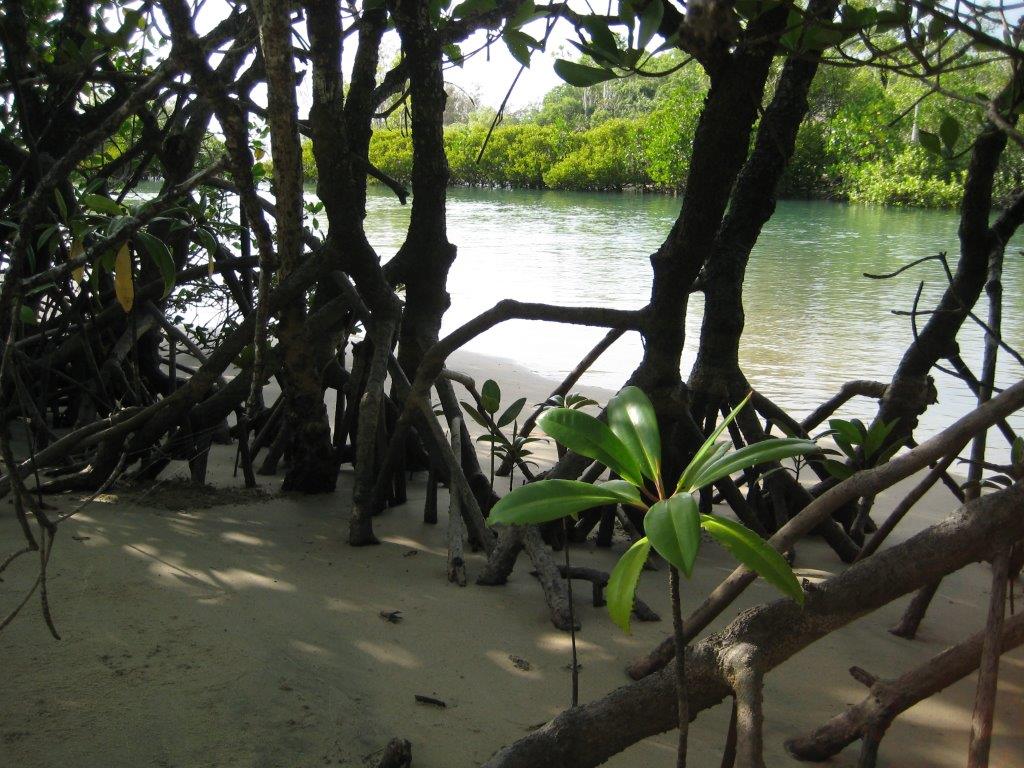 Later we travelled further along the coastline doing a spot of fishing here and there and just taking in the magnificent scenery. Sea turtles and the odd sea snake popped their head above the water, taking a breath of air and a look at us before dissapearing again. Volcanic rock outcrops plunge vertically into the sea and granite boulder-covered headlands intersperse with sandy beaches fringed by rainforest. Other than ourselves, there was not another person to be seen. This is pure untouched north Queensland wilderness at its best.
Rounding another headland the world famous Zoe Bay appears. Kilometres of sandy beach fringed by rainforest and a freshwater creek to the north and south end …. take your pick of landing spots! Our tourguides motored us into the the southern end of the bay. Under the fringing protection of shady trees is a set of campsites for overnight stayers and walkers along the world-reknown Thorsborne Trail.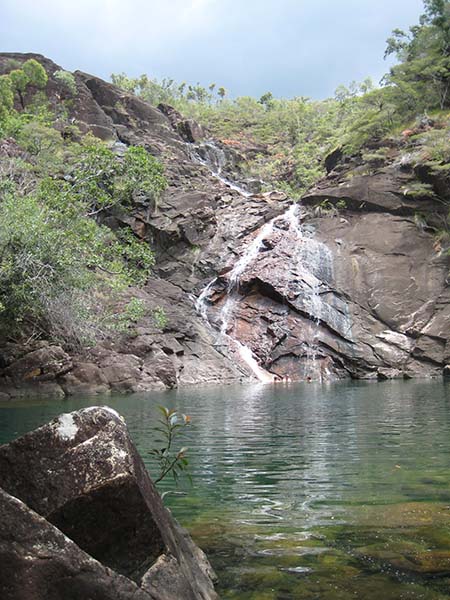 We wandered along the bush trail to the magnificent Zoe Falls. Due to its high peaks, Hinchinbrook Island has an annual rainfall of up to 3.5 metres, and so many freshwater creeks are found all over the island. Zoe Falls is fabulous for an easy-access all year round dip. The clean cool water holds a hidden delight – Jungle Perch!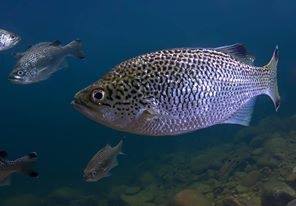 Being a protected species in the middle of a national park, these lively attractive fish have come to view humans a great source of food. No – not as in piranah! Rather, as "what did you bring me for lunch?"
As soon as you get in and the water settles, they are zooming round you. The more adventurous will even peck motes of dead skin from your body. The rest hover round in clouds of expectancy. Unfortunately we hadnt thought to bring a scrap of bread, however several march flies kindly availed themselves to the cause.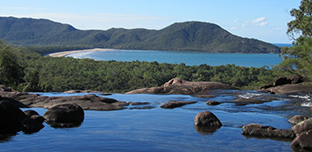 Thrown onto the surface of the water, they stood no chance against the hungry fish who quick as a flash competed to see who got to the tasty morsel first!
Though we didn't, more energetic hikers can walk to the top of the falls for an awe-inspiring 360 degree view.
All too soon our day was over. We had experienced just a small part of what this unspoilt, rugged and magnificent island has to offer. Many days or maybe weeks, need to be spent here exploring its coastline, many bays, beaches and getting further afield into its varied bush, rainforests and mountain peaks. We will no doubt be back!
Thanks John and Mick for an awesome day out.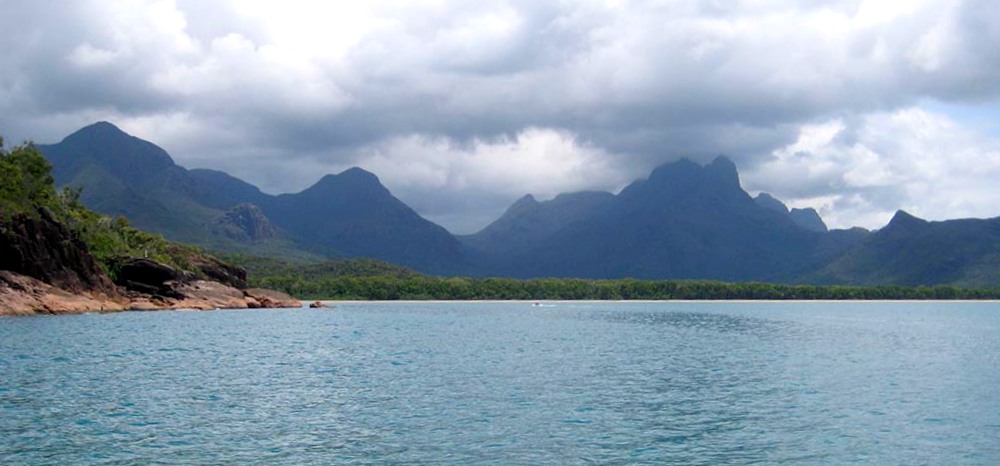 Getting There:
People fly from all over the world every year to trek the 32Klms of the Thorsborne Track and experience the beauty of this magnificent place. If you don't have your own boat to access the island or would like to walk to Thorsborne Track yourself – contact John at Absolute North Charters. As a true local to the area, we can highly recommend his knowledge and experience in providing you with an adventure to remember for many years to come.
Check out this great video John took from his boat of a humpback whale that breached near his boat and then came to take a closer look at him and his passengers. Awesome stuff! Absolute North Charters.
http://www.youtube.com/watch?v=dsh3lHFlXDo